The Dirty Dozen Vol. 2
Diamond-in-the-Rough Round Up
It's no secret that the team here at Revitaliste has an addiction to trolling Craigslist. The daily treasures that can be found never ceases to amaze (and tempt) us. Here are a dozen of our favorite finds from our most recent comb through Craigslist San Francisco along with our take on one (of infinite) way to revitalize each diamond in the rough.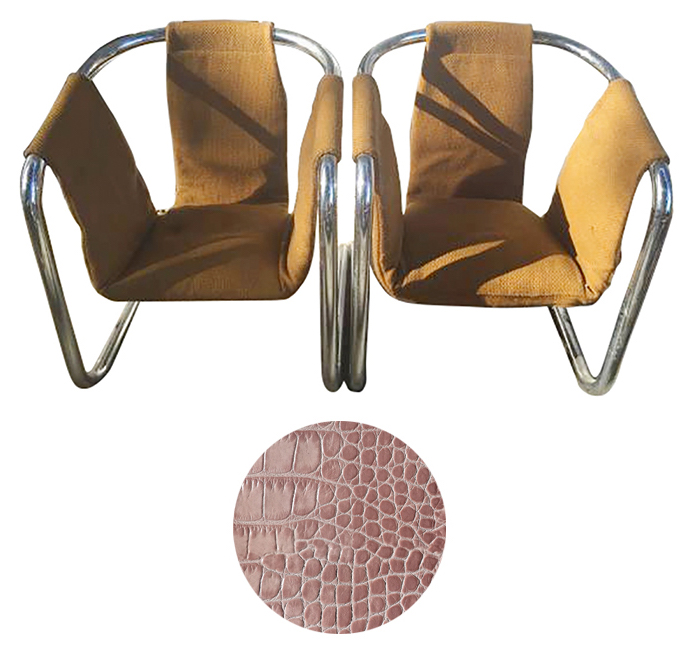 Reupholster 1960s Tubular Sling Chairs
Totally tubular, dude.
Revitalize sling seats with unique leather like this pink Pavoni croc-embossed leather.
Craigslist SF - $395
Reupholstering Adrian Pearsall Club Chairs
Truly timeless investment pieces. These club chairs work with any decor.
Upholster in an unexpected modern graphic print like Schumacher's Queen of Spain.
Craigslist SF - $950
Reupholstering a Mid Century Sofa
Boring beige begging for some excitement.
Upholster in a vibrant color with subtle print like Duralee's faux bois pattern in citron. Modernize the frame with a clean white lacquer.
Craigslist SF - $250
Reupholstering Tufted Faux Leather Armchairs
When naugahyde was a "thing"
Lighten up the look with a nubby neutral colored fabric and remove the tufting.
Craigslist SF - $200
Lacquering a Hollywood Regency Style Dresser
Dorothy Draper would definitely approve of these lines.
Lacquer in a cool, inviting color and swap out the heavy hardware with lucite and nickel drawer pulls.
Craigslist SF - $200
Vintage Drafting Stools Restoration
Industrial chic...and functional!
Powder coat metal bases navy and lacquer seats bright white - perfect in a modern kitchen
Craigslist SF - $500
Reupholstering a Vintage 1970s Sofa
1970s flower power looking for a millennial makeover. Super clean lines make this a timeless piece.
Update with a fresh botanical print like Rebecca Atwood's Floral Medallion.
Craigslist SF - $395
Chrome Cantilevered Chair Restoration
Plain vanilla with huge potential.
Turn up the glam by upholstering in patent leather like this billiard green faux croc vinyl.
Craigslist SF - $300
Refinishing Mid Century Modern Side Tables
Pedestrian.
Fast track to sophistication - wrap table tops and drawer fronts in tweed-like grasscloth, lacquer in matte gray
Craigslist SF - $300
Reupholstering a Tufted Vintage Love Seat
Lumpy and slumpy but nothing a quick nip and tuck can't remedy.
Reupholster in a youthful print like Kravet's Leokat. Remove tufting and back channel for a cleaner look.
Craigslist SF - $150
Restoring Rattan Dining Chairs & Table
Tired tikki lounge today - St. Barts bistro tomorrow
Lacquer rattan table crisp white and chairs glossy black. Reupholster seat cushions in white patent leather with black welt.
Craigslist SF - wait for it...$99 for the set
Powder Coating a Vintage Metal Bedframe
Indestructible...they just don't make 'em like this anymore.
Powder coat in a peppy, glossy color like grassy green.
Craigslist SF - $100
Whether it's one of these fabulous Craigslist finds or a piece you already own, furniture revitalization is a snap with Revitaliste.
We organize pick-up/delivery, provide design guidance and help you procure your favorite fabric - and you never even need to leave your home!